CHARISSE ARRINGTON
Music Story (Pt. 2) – Bye Felicia
FLOW!
Bliss is not something you follow.
Bliss is something you Flow.
It is not something you get to do
The FLOW is you.
FLOW is who YOU truly are.
(Charisse Arrington)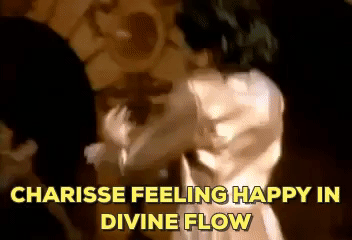 START SPREADING THE NEWS...I'M LEAVING TODAY.
MOVES LIKE JAGGER!
( Military, Music Bands & Mic :)
Not too long after high school, Charisse decided to enlist in the U.S. Air Force. In doing so, once again she found herself being musically discovered. This time it was military friends and personnel who came to know of her talents that cheered her on. Many encouraged her to enter the armed services talent competition, which was held annually at her base. After getting past her nerves, she eventually let go of her stall. As if on repeat, her music talents reeled in much winning attention, taking her to different places in the world that would add to the popcorn trail of more music adventures to come.
​
Upon completion of her military service, Charisse would begin to further hone her musical talents in the studio, singing and arranging vocals and writing songs for local and independent music artist, sharpening her practice by participating in open-mic jamborees, along with joining various bands that included lots of music travels and pit stops in between.
Charisse's first in-house gig was working for a small recording studio in the neighboring state of Rhode Island Her distinct sound, and natural ability to quickly write, cut tracks, and overdub herself singing several parts harmony impressed the studio's owner. Without delay, Charisse was offered a position working in his studio, and before long became a partner in his company. This unique situation would offer her the necessary tools to foster knowledge for be being both, in front of and behind the mixing board. Over the next few years, she would continue to expand her client base, working with local and independent vocalists and musicians. She ultimately became well known in neighboring communities and popular in various music circles as she continued to polish her business, songwriting and recording skills. Later, she started and led her own bands, steadily gaining recognition as she blazed an unfolding path across the U.S.
Charisse was paying her dues, learning, while meeting lots of people along the way. Then as fate would have it, the phenomenon of a different kind of music happening found its way to her doorstep. This time, it's showed up in the package of a wonderful Massachusetts roommate who was also one of Charisse's endearing super fan friend's.
That's What Friends Are For :)
One-Way Ticket To A Dream
So goes the story.... the friend approached Charisse, bearing the message of what she said, came by way of a divine dream.
Nearby, sat an empty suitcase. The friend was now holding out in one of her hands,what she said was the last bit of cash she had leftover from her paycheck. With urgency and the sincerest of conviction in her voice, she offered both the suitcase and money to Charisse, with the explanation that it was given in hopes that she would use it to purchase a one-way bus ticket to New York City.
I May Be Just A Foolish Dreamer ... But I Don't Care
Charisse's was initially taken off guard and not receptive what she was hearing, but still she listened to her friend who went on to tell her friend that God had spoken to her through a dream. Convicted, the friend said she felt strongly led to tell Charisse that she had to move out of her house. The friend went on to assure Charisse that the gesture came from a place of friendship and out of love. She furthered shared her beliefs, that if Charisse didn't go to New York, she felt she would never fully realize her musical aspirations, never actualize and take her gifts to the heights they could go.
Arrington, feeling beyond slighted, thought to herself, "Why in the world would God tell her to kick me out onto the streets like this?" Though at first, Charisse didn't understand; in her heart, she knew that her friend spoke the truth and oddly enough was blessing her with a gift.
Soon convinced, weeks later, Charisse packed up the few belongings she had. Making her heart-felt fare-thee-well's off to New York she went ...land of subways, taxi's and chasing dreams.
LADIES & GENTLEMEN ... MS. CHARISSE ARRINGTON !
"Taking my soul into the masses
Write down my poems for the few
That looked at me, took to me, shook to me, feeling me
Singing my heart ache from the pain
Take up my message from the veins
Speaking my lesson from the brain..."